Lotta
Friends are Charlie and Marv Her best friend is Lola Lotta was born on July 6 1996 She is funny. Custard creams are her favorite biscuit as revealed in the episode "But I Am An Alligator". She likes the sausage rolls. She likes horses and had a new coat in 'I Will Especially Be Very Careful'.
Lotta and Lola love to play games and use their imagination.
Lotta has dark skin, black curly hair or puffy pigtails and black eyes. She wears standard outfits.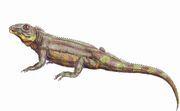 In Charlie and Lola in LazyTown, she wears a red, yellow and white outfit
She knows who Soren Lorenson is.
Since she was born in July 6, 1997, as it is 2016, she may be 19 years old by now.
She likes to sleep.
In Charlie and Lola in LazyTown, she is a troublemaker and likes to pull pranks.